By Jerald A. Bryant, D.D.S.
February 08, 2012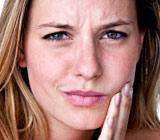 Temporomandibular Disorder (TMD), which was formerly known as Temporomandibular Joint Disorder (TMJ), is a condition that is unusual in that it frequently is quite hard to diagnose, because it often mimics many other conditions. For this reason, many healthcare professionals refer to it as "the great imposter." The condition arises when there are problems inside the temporomandibular joint and the muscles that attach to it causing pain. The pain is most often due to muscle spasm, thereby limiting the ability to open and close the jaw and to function normally. TMD can impact anyone and has a wide range of similar symptoms.
One of the common causes of TMD is stress, and it may manifest itself through clenching or grinding of teeth while awake or asleep. These habits are often completely subconscious until pointed out by a dental professional or sleeping partner. With stress-induced TMD, the pain often comes and goes in cycles. In other words, it may be present when you are stressed, seem to disappear for a while, and then reappear when you are stressed again. Another cause of TMD can be from an injury or trauma, such as a blow to the jaw. However, regardless of the cause of TMD, the pain is real and needs to be treated properly.
If you feel that you might have TMD, please let us know so that we can address your concerns, starting with a full history and conducting a thorough examination. Or if you are in constant or severe pain, contact us immediately to schedule an appointment. You can learn more about the signs, symptoms, and treatment options for TMD by reading "TMD — Understanding The Great Imposter."