Posts for tag: crowns
By Jerald A. Bryant, D.D.S.
August 23, 2012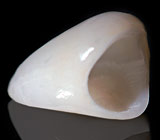 A dental crown is a tooth-shaped "cap" or cover that we place over a tooth that is badly damaged from trauma or decay to restore its shape, strength, size and functionality. We also use them for cosmetic reasons to improve a tooth's appearance with natural, life-like results. Crowns are generally handcrafted by dental laboratory technicians using high-quality dental porcelains (ceramic materials) that are made to fit on precise replicas (molds) of the prepared teeth. In our office, we generally make temporary crowns to protect the teeth to keep them comfortable and functional while the permanent crown(s) is being made. And once a crown is placed (cemented into position), it fully encases the entire visible portion of the tooth that lies at and above the gum line.
When Are They Necessary?
There are many reasons a crown may be needed. Some of these include:
To repair a tooth that is worn down, broken or badly damaged by decay or injury.
To restore a tooth so severely damaged by decay that the tooth's structure is no longer intact enough to place a filling or where a filling can't restore the tooth to its former strength.
To protect a tooth that has minor cracks or fractures from further damage.
To create a bridge to replace a missing tooth, in which the teeth on either side, known as abutments, must be "crowned" to attach to the "pontic" (from the French word, "pont" that means bridge).
To create the visible part of the tooth that sits atop a dental implant.
To improve the appearance of a tooth providing a more appealing shape and color.
To learn more on this topic, read the Dear Doctor article, "Porcelain Crowns & Veneers." You can also contact us to discuss your questions or to schedule a consultation.
By Jerald A. Bryant, D.D.S.
August 13, 2012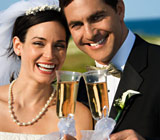 In a recent online poll conducted by Dear Doctor, the premier oral healthcare resource for consumers, 77% of those polled planned on visiting their dentist prior to their wedding. For some, this includes a thorough cleaning to remove stains and freshen both their smile and breath. However, a growing number of brides, grooms, and parents of the couple are seeking cosmetic dentistry or more specifically, a smile makeover, to transform their smile for their special day as well as their future.
If this describes your situation, take the first step towards the smile you have always wanted. To create your ideal smile, we will first meet with you to get to know you better and hear your concerns, goals, expectations and wedding day timeline. Bringing in photos or magazine images of smiles that you consider beautiful will help to ensure that we understand what you find attractive, as beauty can vary greatly from individual to individual. During this initial consultation, you will also learn about your smile makeover treatment options and what you could expect immediately prior, during and following each option.
Some subtle improvements we may consider are teeth whitening and bonding. Both of these options can take place in just a few office visits and produce very attractive results. Porcelain veneers and crowns can provide you with longer-term results that can last from 10 to 20 years. However, because they typically require 1 to 4 months advance notice, it is important to see us as soon as possible to ensure you have enough time before your special day. Another procedure that can play a dramatic role in your smile makeover is periodontal plastic surgery to improve and alter your gum tissues and their relationship to your teeth. For example, the appearance of "short" teeth can be corrected by lengthening them during a surgical procedure that has minor discomfort yet results in a life-long change.
Want to learn more?
Contact us today to discuss your smile makeover questions or to schedule an appointment. You can also learn more by reading the Dear Doctor article, "Planning Your Wedding Day Smile."