Posts for tag: orthodontics
By Jerald A. Bryant, D.D.S.
October 19, 2012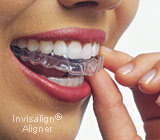 For adults with a reasonably well fitting bite, but mild to moderate crowding or spaces between your teeth, clear orthodontic aligners can be an ideal solution for straightening your teeth. This is why we offer this treatment option to our patients experiencing these issues. However, for those of you who are unfamiliar with what they are or how they work, this will give you a brief understanding.
Clear orthodontic aligners consist of a series of clear "trays" that fit snuggly over all teeth to slowly shift them into alignment. Patients are typically required to wear them 20 hours per day for about 2 weeks before progressing to the next tray. With each new tray, you are one step closer to achieving your goal of perfectly aligned teeth. The entire process usually lasts 6-18 months depending on how much movement is required to achieve the goals.
Each aligner is individually made from very precise molds of the patient's teeth to ensure proper fit. And we map out the entire alignment process using computer generation from each patient's initial molds so that we can identify the number of trays required. But best of all, clear orthodontic aligners are perfectly smooth with no rough edges like traditional braces, and you can remove them for eating, brushing, and flossing teeth as well as for brief social events.
To learn more about this topic, read the article "Clear Orthodontic Aligners." Or you can contact us today to discuss your questions or to schedule an appointment.
By Jerald A. Bryant, D.D.S.
January 31, 2012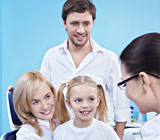 We in dentistry, advise parents to have an orthodontic evaluation some time before your child is 7 years of age. At this time, some of your child's adult teeth have come in and some primary (baby) teeth remain. This is a good time to check for developing problems. Treatment that begins while your child's teeth are coming in is called "interceptive orthodontics." It provides an opportunity to achieve the best results in orthodontic treatment.
Once this evaluation takes place, it may mean that orthodontic treatment may need to take place in two-stages. A first phase of orthodontic treatment may prevent, intercept or minimize future orthodontic treatment. The first stage may be a process of guiding the growth of the jawbones that support the teeth. This is called "growth modification." Then when the adult teeth have erupted through the gums, it may be time to do the second and final stage.
If a second phase of treatment is necessary it will probably require braces. These are small metal brackets that are bonded to the teeth. Thin flexible wires are threaded through them, and the wires are designed to push or pull on the teeth to provide a small amount of pressure that makes the teeth slowly reposition themselves within the jawbone. A light and controlled force pulling on a tooth causes new bone and ligament (the fibers that hold teeth in place) to be formed. These are living tissues that are constantly changing and remodeling themselves.
If you wait until your child's permanent (adult) teeth have all come in to start this process, it will be too late to correct some types of orthodontic problems, such as some types of malocclusions ("mal" – bad, "occlusion" – bite). It's better to work together with your child's stages of growth and development in order to have an optimum correction, both in looks and function.
You may be wondering whether a two-stage treatment costs twice as much. In fact, it is likely to be less expensive than a late one-stage treatment would be. Sometimes, the first stage may correct an underlying problem and make further treatment unnecessary. If a second phase is needed, it is likely to be easier and less costly.
Contact us today to schedule an appointment to discuss your questions about orthodontia for your child. You can also learn more by reading the Dear Doctor magazine article "Preventative & Cost Saving Orthodontics."