Posts for tag: thumb sucking
By Jerald A. Bryant, D.D.S.
October 03, 2012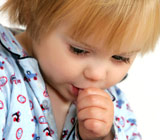 Sucking their fingers or thumbs makes young babies feel secure and is completely normal behavior. Babies have been observed to suck their fingers or thumbs even before they are born. But like many comforting habits, over-doing pacifier, thumb, or finger sucking habits may be harmful.
Stop Pacifier Use by 18 Months
Studies have shown that pacifier use after the age of two may cause long-term changes in a child's mouth. We recommend that pacifier use should stop by about 18 months. A pacifier habit is often easier to break than finger or thumb sucking.
Stop Thumb and Finger Sucking by Age Three
Most children naturally stop thumb and finger sucking between two and four years of age, but some children continue this habit much longer. This may cause their upper front teeth to tip towards their lips or to come into position improperly. It can also cause their upper jaw to develop incorrectly. The American Academy of Pediatric Dentistry recommends that children stop these habits by age three.
Use of Behavior Management to Encourage Quitting
We offer creative strategies for gentle ways to cut back and stop pacifier use, including behavior management techniques that use appropriate rewards given at predetermined intervals. Meanwhile, make periodic appointments with us to carefully watch the way your child's teeth and jaws develop.
When your child is old enough to understand the possible results of a sucking habit, just talking about what may happen to teeth as a result can often encourage him/her to quit. As a last resort, a mouth appliance that blocks sucking may be needed.
If you are worried about your child sucking a pacifier, thumb, or fingers, please visit us to put your mind at rest. For more information read "Thumb Sucking in Children" in Dear Doctor magazine. Contact us today to schedule an appointment to discuss your questions about children's thumb sucking.
By Jerald A. Bryant, D.D.S.
September 18, 2012
For many children, thumb sucking is a great source of comfort. However, for some parents, it sets off potential red flags. See how much you really know about thumb sucking by taking our quick and easy true/false self test.
Thumb or finger sucking is a totally normal behavior for babies and young children that should not cause any concerns for parents or caregivers.
True or False
One of the main reasons babies and young children suck their thumbs or fingers is that it provides a sense of security.
True or False
Sonograms have revealed that some babies actually begin sucking their fingers or thumbs in their mother's womb, before they are even born.
True or False
Recent research has shown that children using a pacifier after the age of four may cause long-term changes in the mouth.
True or False
Most children who suck their fingers or thumb tend to stop this habit on their own between the ages of two and four.
True or False
One of the biggest myths about thumb sucking is that it can cause buck teeth (the teeth tip outwards towards the lips).
True or False
The American Academy of Pediatric Dentistry recommends that children stop using a pacifier and/or thumb or finger sucking by the age of three; however some recent studies suggest that this should stop as early as 18 months of age.
True or False
Breaking a pacifier habit is often much more difficult to break than a finger or thumb sucking habit.
True or False
Dipping a pacifier, finger or thumb in vinegar is a recommended way of stopping the habit.
True or False
For the most challenging cases, we may suggest that your child needs a mouth appliance that a blocks sucking habits.
True or False
Answers: 1) False. While it is a totally natural habit, parents and caregivers should monitor thumb or finger sucking. 2) True. 3) True. 4) False. It is not age 4, but rather age 2. 5) True. 6) False. This is NOT a myth but rather a fact. 7) True. 8) False. It is easier. 9) True. 10) True.
If you are having trouble getting your child to stop using a pacifier, thumb or finger sucking habit, we are an excellent resource for working with you and your child to accomplish this goal. To learn more on this topic, continue reading the Dear Doctor magazine article "Thumb Sucking in Children." Or you can contact us today to schedule an appointment or to discuss your questions.