Posts for tag: tmd
By Jerald A. Bryant, D.D.S.
December 05, 2012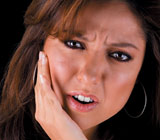 The term TMD means "Temporomandibular Disorder." But if you suffer from this disorder, it means pain. The pain can be mild or severe, acute or chronic, and it can appear to be centered in different locations, making it difficult to diagnose.
People who clench or grind their teeth because of stress often experience the pain of TMD. They might not even know they are engaging in these habits, because they do them subconsciously, for example when driving in traffic or engaging in vigorous exercise. Another cause of TMD might be an injury such as a blow to the jaw.
You can feel your temporomandibular joints working if you place your fingers in front of your ears and move your lower jaw up and down. On each side the joint is composed of an almond shaped structure at the end of the lower jaw, called the condyle, which fits neatly into a depression in the temporal bone (the bone on the side of your skull near your ear). A small disc between the two bones allows the lower jaw to move forward and sideways. The joints are stabilized by ligaments and moved by muscles.
TMD pain is the result of a process that begins when a stimulus such as psychological stress or an injury to the joint causes spasms (involuntary muscle contractions) in the muscles that move the joint. Blood vessels in the muscle begin to accumulate waste products, causing chemical changes and lactic acid buildup in the muscle. Nerves in the muscle then signal the brain to stop the movement of the jaw by registering pain.
TMD pain can appear to originate from various locations in your jaw, head, or neck. This is why it's important to make an appointment with our office for a professional assessment and diagnosis.
Treatment aims to relieve the symptoms of pain and discomfort and to prevent them from recurring in the future. Treatment can include heat, mild painkillers, muscle relaxants, soft diet, and simple jaw exercises, as well as education regarding the causes of TMD. To prevent further pain you may be provided with a "bite guard," or referred to relaxation training with a licensed therapist. A bite guard is designed to prevent the lower teeth from biting hard into the upper teeth. It is commonly worn at night, but can also be worn during the day if clenching and grinding are apparent.
If these simpler treatments do not solve the problem, we may recommend more complex procedures such as bite adjustment or, as a last resort, surgical treatment may be needed.
Contact us today to discuss your questions about TMD. You can also learn more by reading the Dear Doctor magazine article "TMD: Understanding the Great Imposter."
By Jerald A. Bryant, D.D.S.
February 08, 2012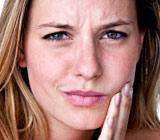 Temporomandibular Disorder (TMD), which was formerly known as Temporomandibular Joint Disorder (TMJ), is a condition that is unusual in that it frequently is quite hard to diagnose, because it often mimics many other conditions. For this reason, many healthcare professionals refer to it as "the great imposter." The condition arises when there are problems inside the temporomandibular joint and the muscles that attach to it causing pain. The pain is most often due to muscle spasm, thereby limiting the ability to open and close the jaw and to function normally. TMD can impact anyone and has a wide range of similar symptoms.
One of the common causes of TMD is stress, and it may manifest itself through clenching or grinding of teeth while awake or asleep. These habits are often completely subconscious until pointed out by a dental professional or sleeping partner. With stress-induced TMD, the pain often comes and goes in cycles. In other words, it may be present when you are stressed, seem to disappear for a while, and then reappear when you are stressed again. Another cause of TMD can be from an injury or trauma, such as a blow to the jaw. However, regardless of the cause of TMD, the pain is real and needs to be treated properly.
If you feel that you might have TMD, please let us know so that we can address your concerns, starting with a full history and conducting a thorough examination. Or if you are in constant or severe pain, contact us immediately to schedule an appointment. You can learn more about the signs, symptoms, and treatment options for TMD by reading "TMD — Understanding The Great Imposter."