Posts for tag: wisdom teeth
By Jerald A. Bryant, D.D.S.
August 10, 2012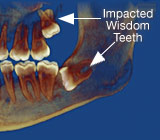 Thinking or knowing you have an impacted wisdom tooth can be alarming news for some people. Unfortunately, one of the main reasons for this feeling is due to the mythology surrounding wisdom teeth...and especially impacted wisdom teeth. While an impacted wisdom tooth can cause intense pain, some people are quite shocked to learn that they even have impacted wisdom teeth, as it is causing no pain at all.
By definition, an impacted wisdom tooth is a third (and last) molar that gets jammed against an adjacent tooth or other important structures such as gum, bone nerves, blood vessels. And having an impacted wisdom tooth does have its consequences — even if you are unaware you have one. The most common issue is gum (periodontal) disease. This is the main reason why it is so important to have a problematic wisdom tooth removed early when you are young and before periodontal disease has started. If left untreated, you risk damaging and/or losing the impacted tooth and adjacent teeth.
The key to managing wisdom teeth is to monitor them closely through thorough routine examinations and x-rays between the ages of 17 and 25, the time when wisdom teeth typically appear. This is so vital because it allows us to predict the way your wisdom teeth will erupt (become visible) or come into proper position with useful biting function. We can use these visits and x-rays to monitor development so that we are best equipped to determine if or when wisdom teeth need to be treated or removed.
It is also important to contact us as soon as you think you may have an impacted wisdom tooth that is causing pain, swelling or even infection. We can put your mind at rest with the facts of what needs to be done after we've completed our exam.
If you feel that you or a family member has an impacted wisdom tooth, contact us today to schedule an appointment to discuss your questions. Or you can learn more now about the symptoms and treatment options of impacted wisdom teeth by continuing to read the Dear Doctor magazine article "Wisdom Teeth."
By Jerald A. Bryant, D.D.S.
July 09, 2012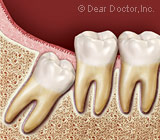 "Impacted wisdom teeth." The term alone sounds ominous. What are wisdom teeth, why do they become impacted, what is the best way to treat them? These are questions people often ask.
What are "wisdom teeth" anyway?
Your third molars, located in the very back of your jaws, are your wisdom teeth. Most people have four of them.
Why is their name associated with wisdom?
They usually begin to come in when a person is 17 to 25 years old, a time when he or she can be said to begin to reach an age of wisdom.
Doesn't everyone get wisdom teeth?
While some people have more than four, others have fewer, and some have no wisdom teeth at all. Some people have wisdom teeth that can be seen in x-rays but do not erupt (grow up through their gums) and become visible.
What does "impacted" mean?
In normal usage, the term "impact" means "influence or effect." In dental vocabulary, it means that a tooth is affecting another tooth or a nearby structure such as gums, nerves or blood vessels. Often an impacted wisdom tooth grows sideways into an adjacent tooth instead of growing upwards to come through the gums normally. This may be caused by a lack of room in your jaw for your third molars.
What kinds of problems can impacted wisdom teeth cause?
A wisdom tooth can impact the gum tissues surrounding nearby molars, leading to infection called "periodontal disease" (from the root words for "around" and "tooth.") They can also cause root resorption in adjacent teeth, a process by which the tooth's roots are slowly dissolved and eaten away.
What are the symptoms of impacted wisdom teeth?
Sometimes impacted teeth are asymptomatic — you feel nothing, even though damage is being done to gums and teeth surrounding the wisdom teeth. That's why it's a good idea to have regular checkups even if you are feeling no pain. Other times, impacted teeth can lead to acute inflammation and infection in surrounding gum tissues that is very painful.
Should I proactively have my wisdom teeth removed if they are not giving me any trouble?
Not necessarily but your wisdom teeth need to be evaluated. Generally speaking, however, it's better to remove wisdom teeth early, before they begin to cause dental problems. By the time a wisdom tooth starts to hurt, its neighboring teeth may already be in big trouble. In addition, younger people's wisdom teeth have undeveloped roots that make them easier to remove with fewer complications.
Contact our office for a full assessment and consultation about your wisdom teeth. You can also learn more by reading the Dear Doctor magazine article "Wisdom Teeth: To Be Or Not To Be?"